")}[type=checkbox],[type=radio]{width:1.6rem;height:1.6rem}.button,[type=button],[type=reset],[type=submit],button{padding:1rem 2.5rem;color:#333;background:#e6e6e6;border-radius:4px;border:none;font-size:1.5rem;line-height:1;text-align:center;-webkit-transition:all .2s ease;transition:all .2s ease;text-decoration:none;-webkit-transform:scale(1);transform:scale(1);-webkit-transition:all .3s;transition:all .3s;display:inline-block}.button+.button{margin-left:1rem}.button:hover,[type=button]:hover,[type=reset]:hover,[type=submit]:hover,button:hover{opacity:.8}.button:active,[type=button]:active,[type=reset]:active,[type=submit]:active,button:active{-webkit-transform:scale(.98);transform:scale(.98)}button[disabled],button[disabled]:hover,input[disabled],input[disabled]:hover{opacity:.4;cursor:not-allowed}.button.primary,[type=submit]{color:#fff;background-color:#000;background:var(--primary-color)}.button.outline{background-color:transparent;border:1px solid var(--lightGrey-color)}.button.outline.primary{border-color:var(--primary-color);color:var(--primary-color)}.button.clear{background-color:transparent;border-color:transparent;color:var(--primary-color)}.nav{display:-webkit-box;display:-ms-flexbox;display:flex;min-height:5rem;-webkit-box-align:stretch;-ms-flex-align:stretch;align-items:stretch}.nav img{max-height:3rem}.nav-center,.nav-left,.nav-right,.nav>.container{display:-webkit-box;display:-ms-flexbox;display:flex}.nav-center,.nav-left,.nav-right{-webkit-box-flex:1;-ms-flex:1;flex:1}.nav-left{-webkit-box-pack:start;-ms-flex-pack:start;justify-content:flex-start}.nav-right{-webkit-box-pack:end;-ms-flex-pack:end;justify-content:flex-end}.nav-center{-webkit-box-pack:center;-ms-flex-pack:center;justify-content:center}@media screen and (max-width:480px){.nav,.nav>.container{-webkit-box-orient:vertical;-webkit-box-direction:normal;-ms-flex-direction:column;flex-direction:column}.nav-center,.nav-left,.nav-right{-ms-flex-wrap:wrap;flex-wrap:wrap;-webkit-box-pack:center;-ms-flex-pack:center;justify-content:center}}.nav .brand,.nav a{text-decoration:none;display:-webkit-box;display:-ms-flexbox;display:flex;-webkit-box-align:center;-ms-flex-align:center;align-items:center;padding:1rem 2rem;color:#555}.nav .active:not(.button){color:#000;color:var(--primary-color)}.nav .brand{font-size:1.75em;padding-top:0;padding-bottom:0}.nav .button{margin:auto 1rem}.card{padding:1rem 2rem;border-radius:4px;-webkit-box-shadow:0 0 2px rgba(0,0,0,.4);box-shadow:0 0 2px rgba(0,0,0,.4)}.card p:last-child{margin:0}.card header>*{margin-top:0;margin-bottom:1rem}.tabs{display:-webkit-box;display:-ms-flexbox;display:flex}.tabs a{text-decoration:none}.tabs>a{padding:1rem 2rem;-webkit-box-flex:0;-ms-flex:0 1 auto;flex:0 1 auto;color:#555;border-bottom:2px solid var(--lightGrey-color);text-align:center}.tabs>a.active,.tabs>a:hover{opacity:1;border-bottom:2px solid #555}.tabs>a.active{border-color:var(--primary-color)}.tabs.is-full a{-webkit-box-flex:1;-ms-flex:1;flex:1}.pull-right{float:right}.pull-left{float:left}.is-text-center{text-align:center}.is-text-left{text-align:left}.is-text-right{text-align:right}.is-text-uppercase{text-transform:uppercase}.is-text-lowercase{text-transform:lowercase}.is-text-capitalize{text-transform:capitalize}.is-full-screen{width:100%;min-height:100vh}.is-full-width{width:100%}.is-vertical-align{-webkit-box-align:center;-ms-flex-align:center;align-items:center}.is-center,.is-horizontal-align,.is-vertical-align{display:-webkit-box;display:-ms-flexbox;display:flex}.is-center,.is-horizontal-align{-webkit-box-pack:center;-ms-flex-pack:center;justify-content:center}.is-center{-webkit-box-align:center;-ms-flex-align:center;align-items:center}.is-right{-webkit-box-pack:end;-ms-flex-pack:end;justify-content:flex-end}.is-left,.is-right{display:-webkit-box;display:-ms-flexbox;display:flex;-webkit-box-align:center;-ms-flex-align:center;align-items:center}.is-left{-webkit-box-pack:start;-ms-flex-pack:start;justify-content:flex-start}.is-fixed{position:fixed;width:100%}.is-paddingless{padding:0!important}.is-marginless{margin:0!important}.clearfix{content:"";display:table;clear:both}.is-hidden{display:none!important}@media screen and (max-width:480px){.hide-phone{display:none}}@media screen and (max-width:768px){.hide-tablet{display:none}}:root{--primary-color:#28a386;--font-family:"Inter UI",system-ui,sans-serif}body{color:#333;background-color:#fff;letter-spacing:-.1px;font-weight:400;-webkit-font-kerning:normal;font-kerning:normal;-webkit-font-feature-settings:"kern" 1;font-feature-settings:"kern" 1}a{-webkit-transition:color .2s ease;transition:color .2s ease}h6{text-transform:uppercase}.container{width:90%}@media screen and (max-width:480px){.nav-menu{margin-top:2rem}.nav a{padding:1rem}}.lead{font-size:120%}.embed-responsive{position:relative;display:block;height:0;padding:0;overflow:hidden}.embed-responsive .embed-responsive-item,.embed-responsive embed,.embed-responsive iframe,.embed-responsive object,.embed-responsive video{position:absolute;top:0;bottom:0;left:0;width:100%;height:100%;border:0}.embed-responsive-16by9{padding-bottom:56.25%}.embed-responsive-4by3{padding-bottom:75%}#project iframe,#project video{max-width:100%}#project>figure{width:90%;margin:5rem auto}#project h1{text-align:center;font-size:4rem;margin:10rem 1rem}@media screen and (max-width:480px){#project h1{margin:5rem 1rem}}#project .details tr{border-bottom:1px solid var(--lightGrey-color)}#project .details tr td:last-child{font-weight:500}hr{width:100px;margin:10px auto;display:block}.page-enter-active,.page-leave-active{-webkit-transition:opacity .3s;transition:opacity .3s}.page-enter,.page-leave-active{opacity:0}.inFadeOutBottom-enter-active{-webkit-animation:fadeIn .3s;animation:fadeIn .3s}.inFadeOutBottom-leave-active{-webkit-animation:moveToBottom .3s;animation:moveToBottom .3s}.inBottomOutfade-enter-active{-webkit-animation:moveFromBottom .3s;animation:moveFromBottom .3s}.inBottomOutfade-leave-active{-webkit-animation:fadeOut .3s;animation:fadeOut .3s}@-webkit-keyframes moveFromBottom{0%{-webkit-transform:translateY(100px);transform:translateY(100px)}}@keyframes moveFromBottom{0%{-webkit-transform:translateY(100px);transform:translateY(100px)}}@-webkit-keyframes moveToBottom{to{-webkit-transform:translateY(100px);transform:translateY(100px);opacity:0}}@keyframes moveToBottom{to{-webkit-transform:translateY(100px);transform:translateY(100px);opacity:0}}@-webkit-keyframes fadeOut{to{opacity:0;-webkit-transform:translateY(100px);transform:translateY(100px)}}@keyframes fadeOut{to{opacity:0;-webkit-transform:translateY(100px);transform:translateY(100px)}}@-webkit-keyframes fadeIn{0%{opacity:0;-webkit-transform:translateY(50px);transform:translateY(50px)}}@keyframes fadeIn{0%{opacity:0;-webkit-transform:translateY(50px);transform:translateY(50px)}}.nuxt-progress{position:fixed;top:0;left:0;right:0;height:2px;width:0;-webkit-transition:width .2s,opacity .4s;transition:width .2s,opacity .4s;opacity:1;background-color:#efc14e;z-index:999999}.main-nav{margin-top:3rem}.logo svg{width:5rem;fill:var(--primary-color)}._1ZhV3JkpspvpvGVpYKd3pp_0{overflow:hidden;margin:0}._1ZhV3JkpspvpvGVpYKd3pp_0 p{font-style:italic;text-align:center;font-size:90%;margin-top:1rem}._1ZhV3JkpspvpvGVpYKd3pp_0 img{display:block;-webkit-transition:all .3s ease;transition:all .3s ease;margin:auto}._3Pir6msJ5PbtN4PDPCljX7_0{width:100%;-webkit-filter:blur(10px);filter:blur(10px)}footer.footer{margin:5rem auto}@media screen and (min-width:48rem){footer.footer .nav a:first-child{padding-left:0}}footer.footer .colophon>*{font-size:1.3rem;margin-bottom:1rem}
Central Park Conservancy
Overview
The Central Park Conservancy (CPC) is a private, nonprofit organization whose mission is to restore, manage and enhance Central Park in partnership with the public. They have been known as industry leaders in the field of urban park management, providing accurate and timely info about events and themselves as caretakers of the park. We worked with CPC's Senior Web Manager, Libbie Hayward to find why the Calendar of Events is hard to use.
Details
| | |
| --- | --- |
| Class | Research Methods |
| Collaborators | Scott Cowell, Yue Yuan, Ning Xu |
| Mentor | Jodi Leo, SVA |
Problem
Currently, the Calendar of Events at centralparknyc.org/events is hard to navigate, use and is a painpoint for users, including supporters of the park. The online Calendar of Events needs to change to meet the organizational goals. The CPC team wanted us to inform a new design that they would iterate and build upon.
Process
Screening: Participants were screened via a live-intercept invitation, questionnaire and qualified based on residential proximity to the Park (within a 12-block radius) and likeliness to support.
Recruiting: Digital screeners were launched on the homepage and calendar page of centralparknyc.org for a 6-hour duration to recruit participants and selected according to how well they meet the screening criteria.
Interviews: 30-minute remote moderated interviews were conducted, observing participants via GoToMeeting screen sharing tool.
Debrief: Deeper synthesis and analysis of research artifacts (Verbatim notes, video of each session, debrief notes and charts)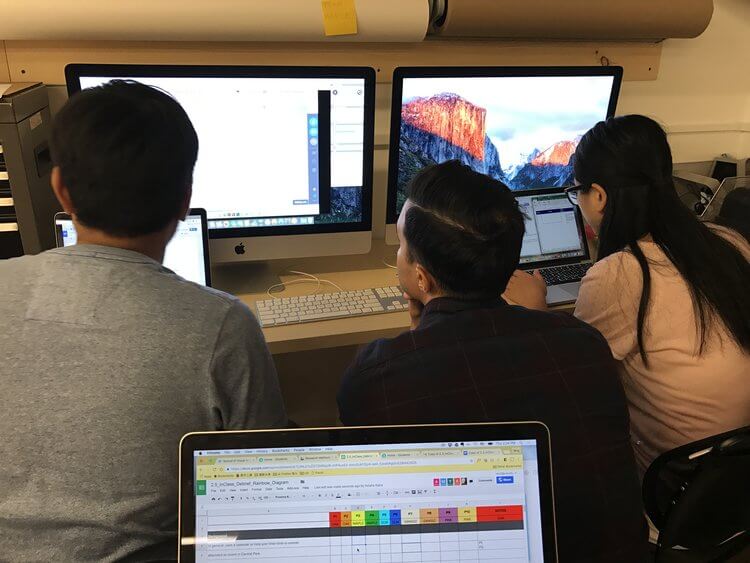 Mapping the Research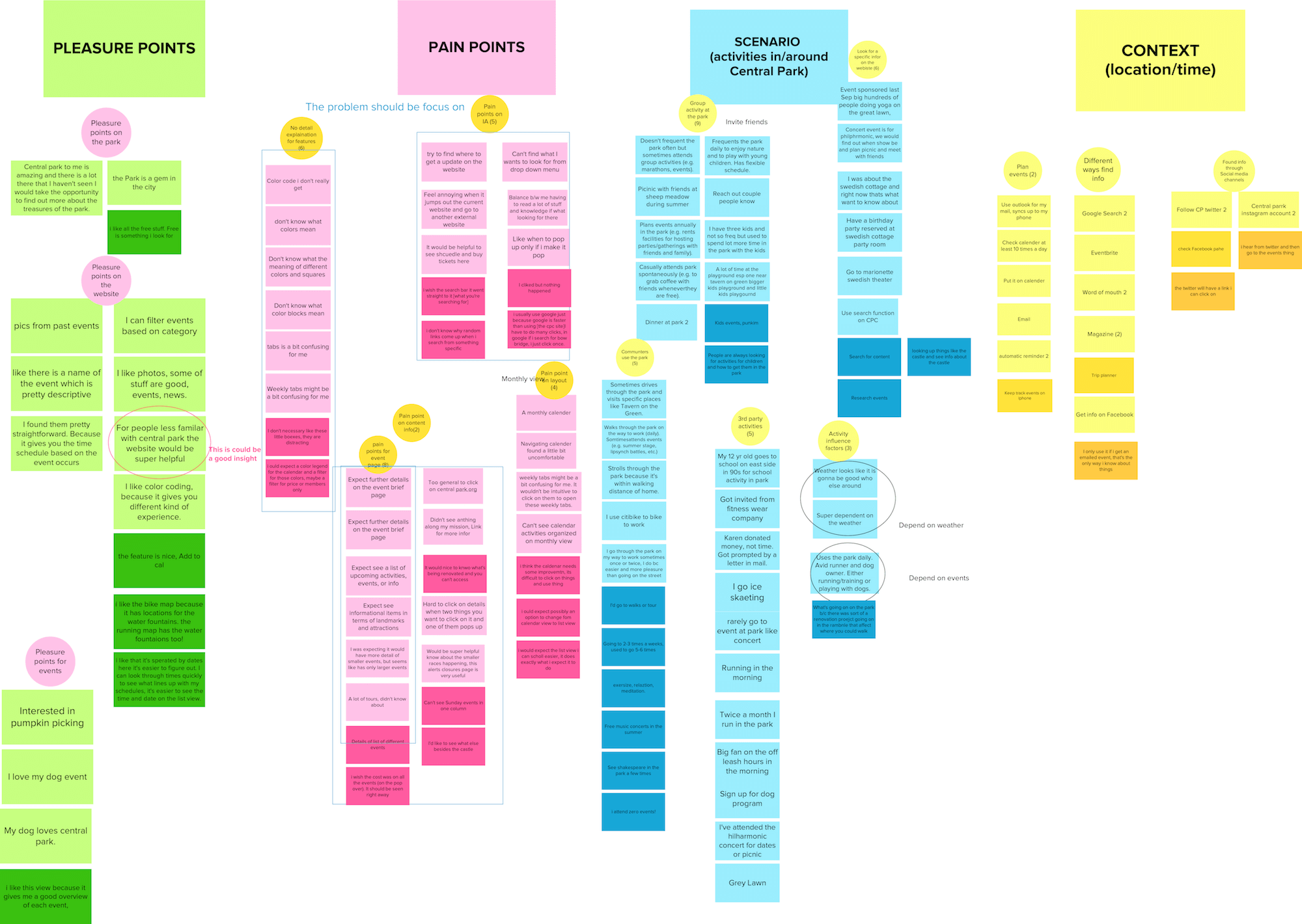 Find opportunities
User flow
Design
---